Story

Apprenticeship Champion of the Year 2020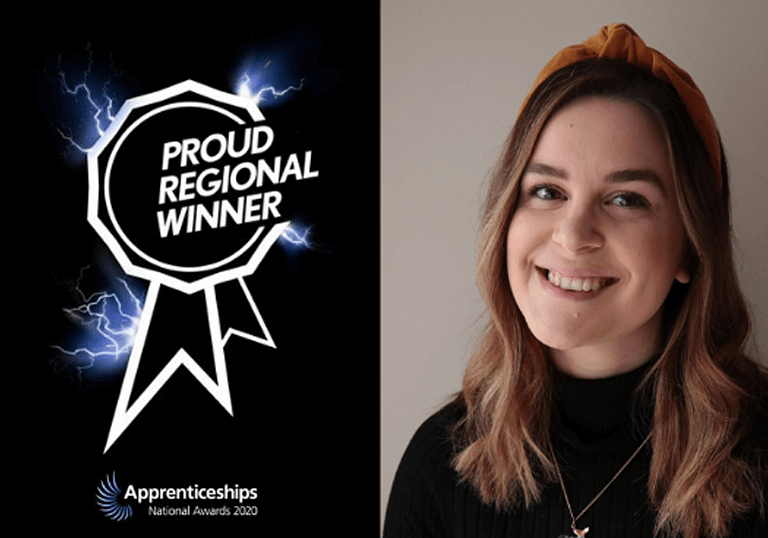 Thursday 10 December 2020
We are pleased to share that Melissa, one of our senior engineers in Mechanical Engineering at our Stevenage site, has won the Royal Air Force Award for Apprenticeship Champion of the Year 2020 at the East of England National Apprenticeship Awards 2020.
Judges pick a winner who has championed apprenticeships with enthusiasm, and the initial nomination comes from a colleague or contact who recognises their "champion" credentials. Winning the award, Melissa's was recognised for her work here at MBDA that included; introducing a formal coordinator role to support Apprentices' development, improving the planning of Apprentices placements, and inputting on Apprentices' technical development, as well as her volunteer work carried out in her own time.
Melissa talks to us about her own apprenticeship experience, and her continued passion for championing apprenticeship opportunities.
So many people who helped me develop when I was an apprentice, both professionally and personally, that I'm passionate about paying this forward to new apprentices. It's my way of showing my appreciation, so I was surprised to be nominated and delighted to win this award.
I joined MBDA in 2009 as an engineering apprentice. It nearly didn't happen! Originally, I'd planned to study Chemistry at University. I started to rethink my further education and career plans after winning an award for my AS Level Design Technology project and its offer of work experience at MBDA.
Looking back at it now, taking up an apprenticeship seems so obvious and logical. Engineering was the perfect mix of all the subjects I enjoyed at school - science, maths, and technology. Also, although not an obvious a link, art. For example, being creative with how you approach problems or being able to use sketches to visualise ideas and communicate them is useful.
Completing my apprenticeship, I got formal academic and vocational qualifications, including a degree. I got on-the-job experience (which also helped me to understand and apply the academic theories), and I was able to contribute and deliver real work to the company. I've also been able to grow an invaluable network of contacts across my company, which I still use in my role today. On top of all that, earnt a good salary and have no student debts!
Having nearly missed out on the opportunity of an apprenticeship myself (if I hadn't won the Design Technology award, I wouldn't be here!), I'm keen to ensure others know about all of the apprenticeship opportunities available to them.
Alongside my day-to-day role, I work with colleagues across MBDA to improve our apprenticeships. I also spend time outside of work celebrating apprentices and their achievements. One of the major activities I have taken part in over the past six years is acting as a judge for the MakeUK Apprentice Awards. This is something I thoroughly enjoy doing. I get to hear some of the amazing work apprentices have completed up and down the country, in companies big and small, and the difference an apprenticeship scheme has had on people.
Throughout my career, I have been fortunate enough to be surrounded by apprentices who are doing incredible things. I've heard hundreds of examples as an awards judge, I've seen MBDA apprentices develop and progress from their assessment day through to their final roles, and across the company I work with many ex-apprentices in a variety of roles.
I've not yet met someone who has regretted taking the apprenticeship route. I'm sure if you could hear even a small fraction of the success stories I have – then you'd be submitting your own application in no time!
When I was a student, I didn't fully appreciate the breadth of roles and activities you could undertake as an engineer. Nor was I aware of the apprenticeship career path you could take to become one until it found me!
I believe the awareness of apprenticeships has improved over recent years. For example, I see more award applicants sharing how their school or parents helped them choose an apprenticeship. This is great, but it's no reason for me to slow down, so I'll keep championing apprenticeships and the impact they have on individuals both personally and professionally."
In a year that none of us could have predicted or prepared for, our teams have worked tirelessly to ensure our new apprentices would join MBDA feeling welcomed, supported, and inspired (albeit virtually!).
We're still open for our 2021 Early Careers opportunities, and welcome applicants from Engineering, Operations, and Business disciplines. Join us and YOU can make a difference, make history and make the future.