Story
MBDA a finalist for The Excellence in Onboarding Award at the TIARA Talent Acquisition Awards 2023.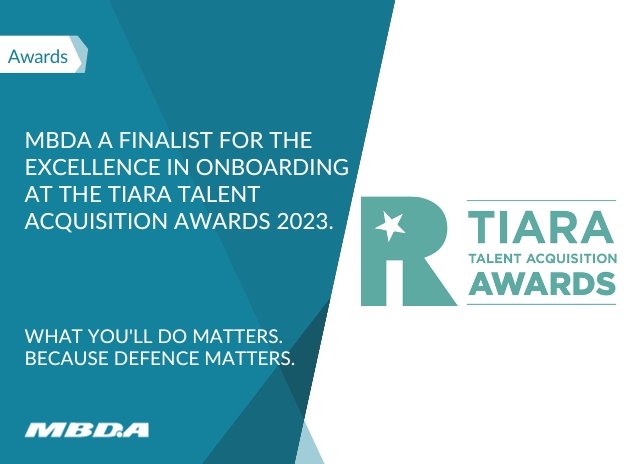 Monday 18 September 2023
MBDA are proud to announce that we have been shortlisted in the UK for The Excellence in Onboarding Award as part of the annual TIARA Talent Acquisition Awards 2023.
MBDA is one of five employers shortlisted in our category, which is detailed on the awards website as:
"This Award recognises creativity, exceptional performance and outstanding delivery of a high-quality onboarding experience for new employees."
MBDA's nomination specifically relates to the our engagement and satisfaction of candidates joining MBDA UK, as they progress through our hiring process.
As a defence contractor requiring security vetting of potential employees, our hiring processes can take longer than those of other industries. This means we work hard to ensure our candidates receive an exceptional level of engagement from our Resourcing and support teams, throughout their onboarding journey.
MBDA partners with the platform Meet & Engage as part of our onboarding setup. This platform provides valuable pre-joining information to candidates as well as introductions to key people around the business. This all takes place in additional to personal contact, of course, from a dedicated Recruiter and the incoming employee's team members.
We are proud to say that this award is not the only one MBDA has been shortlisted for this awards season – explore our stories page to find which others we have been featured in.