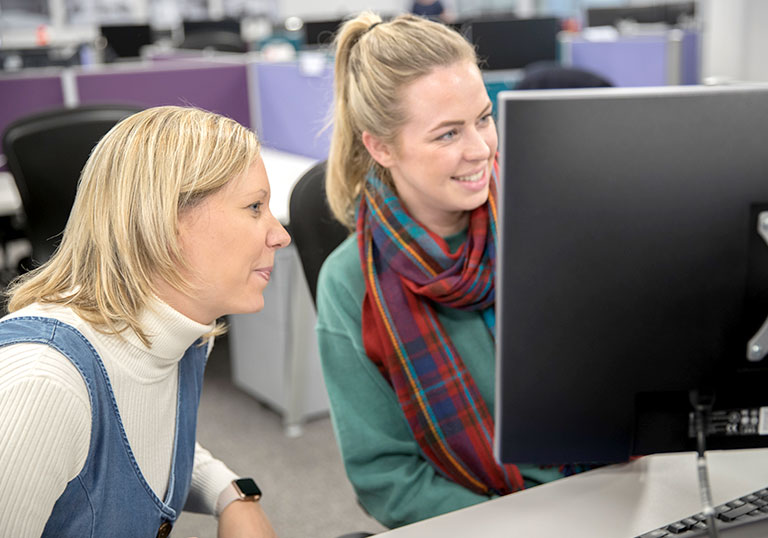 Corporate

Create an impact across everything we do.
Corporate Functions Overview
Throughout the life cycle of our products, a multitude of skill and expertise is required. At MBDA our Corporate functions cover a wide range of disciplines from HR and Finance, to Sales & Business Development and Communications. Each one integral to our continued growth and an essential part of our success.
Our innovative and dedicated teams combine their expertise to ensure we stay at the forefront of innovation and remain competitive. Whether this is ensuring we have the right people strategies in place, developing sales opportunities in international markets, defining and managing our external communications, or ensuring our facilities are secure, safe, and comfortable.
No matter what role you are interested in, you can make a difference at MBDA.
Our disciplines
Marketing & Communications
The Communications Directorate is organised into six areas of expertise:
Media Relations
Brand & Business Communications
Internal Communications
Digital Communications
Exhibitions & Image
Customer relations

Finance
The Finance team is responsible for ensuring that complete, accurate and consistent financial data is available both within and outside the company. It must ensure that the data is produced in an orderly and efficient manner in order to:
Produce compliant, comprehensive, accurate and transparent financial statements
Comply with all relevant corporate, financial, accounting, fiscal and legal requirements
Give a true and fair view of the financial position of company
The Finance team is an international integrated team formed of the following departments:
Bid and Contract Evaluation
Project Financial Control
Cost Control
Accounting and Reporting
Treasury

Human Resources
Having the right people strategies in place remains key to our continued growth in a competitive market place. Human Resources works in partnership with the business to meet its objectives through its people.
HR support both the employee and people management needs of the business from welfare through to personal development and performance, including the design and implementation of policies and procedures concerning the workforce as a whole.
Information Management / Technology
The Information Management team is responsible for ensuring that MBDA has the right technology in place to enable our employees to work efficiently and effectively.
Our teams support the following:
Networks
Hardware and Software
PC / laptops
Data organisation, storage and back up
Applications
Fixed phones
Mobile phones
Videoconference
OCS – online communication system (instant messaging)
Remote access
Internet access

Legal
The purpose of the Legal Directorate and its team is, first and foremost, to provide legal advice and assistance throughout the life of a project. Beyond the essential criteria of ensuring the legal integrity of the group's activities and operations, our team is the trusted partner of all project stakeholders and is actively involved in the company's strategy.
Facilities
Facilities Management touches every MBDA employees working life each day from the moment they arrive on site to when they leave to go home. The team provides a balance between being energy efficient, effective and cost conscious whilst delivering the best working environment we can, which enables employees to work in safe, comfortable and well supported spaces.
Occupational Health
This directorate provides a Proactive Health and Wellbeing Service within MBDA. Staffed by qualified nurses, this team provides screening services to those employees who work with hazardous substances and technical advice on issues related to health at work.
Strategy & Improvement
The aim of the Improvement Directorate is to provide MBDA with a managed and integrated structure to improve Operational Excellence.
The Improvement Directorate has full responsibility for:
Defining and managing a global project architecture in order to serve shared and ambitious objectives
Ensuring the delivery of major transverse improvement projects
Covering the four countries
Strengthening synergies between the three countries already integrated
Involving Germany progressively to prepare the integration process
Addressing the consistency of local improvement initiatives across the countries and directorates
MBDA People
Gain an insight into how we work and who you could be working alongside.
Discipline

Business Management | Engineering and Design | Manufacturing and Production
Discipline

Business Management | Engineering and Design | Manufacturing and Production
Discipline

Business Management
Search jobs