Story
Engineering Apprentice named Student of the Year 2023 by college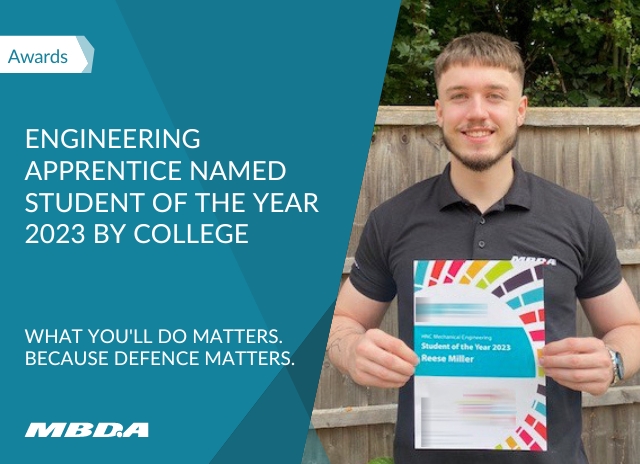 Wednesday 30 August 2023
We are delighted to share more success of our apprentices after one was named Student of the Year 2023 by the college he studies at while he 'learns and earns' with MBDA.
Reese Miller, one of our engineering apprentices, was named HNC Mechanical Engineering Student of the Year 2023 by the college he studies at as part of his apprenticeship. Reese tells us what it means to him.
Reacting to receiving the award, Reese said, "When I saw the letter come through the door, I was expecting course grades. I was shocked to open it and see 'Student of the Year' looking at me. I had no idea I was even being considered! It was a proud feeling, and hearing my family's kind words in reaction was great." Reese added:
"Winning the award means a lot to me. I'm thankful for being noticed and recognised for my performance, which I've tried my best to showcase, but I'm already looking to next year and continuing to progress. There are always areas to strengthen. Fingers crossed, I could win the award again!"
Reese went on to thank his tutors and his peers for their help and support throughout the year. "Thanks to my tutors, whenever I had problems, they helped me come to a solution and gave me insightful feedback on assignments. It helped me understand what I needed to do to gain those all-important extra marks. Thanks too, to those on my course with me. It's been easier to understand where to improve when we are all helping one another and sharing our opinions on how to get to that next level."
Looking to his future at MBDA, Reese felt the award would contribute to building a good reputation and help develop his career with the company. "One of my goals is to raise my profile in the company. This award helps that. It is also excellent evidence for my performance review at the end of the year, and these are linked to salary progression, so that's a little more motivation there!"
With the award raising Reese's profile in the company and being in his second year of a four-year apprenticeship, Reese is aware that apprentices are coming through behind him. Plus, there are others potentially considering an engineering apprenticeship like his. To them, Reese had this advice to pass on. "I think my apprenticeship is great. It allows me to explore as much of the company as possible during my four years. Your hard work pays off, and you are recognised and rewarded for it. Your education provider works with you and aids you to get where you want to be if you show them the effort required. So when you're given an opportunity to stand out, go for it. You won't want to regret it in the future."
Congratulations on your award Reese, well done!
Our four-year apprenticeship schemes focus on business, engineering, software and manufacturing. They provide you with a platform to study, work on exciting projects and make a valuable impact with the work you do. All while earning a salary.
You'll work at one of our MBDA sites and study for your qualification via day release at university or college. We also organise bespoke training courses to further contribute to and enhance your skill set.
Click HERE to register your interest for our 2024 programme.