Story
Former Grad wins mechanical engineering award from panel of peers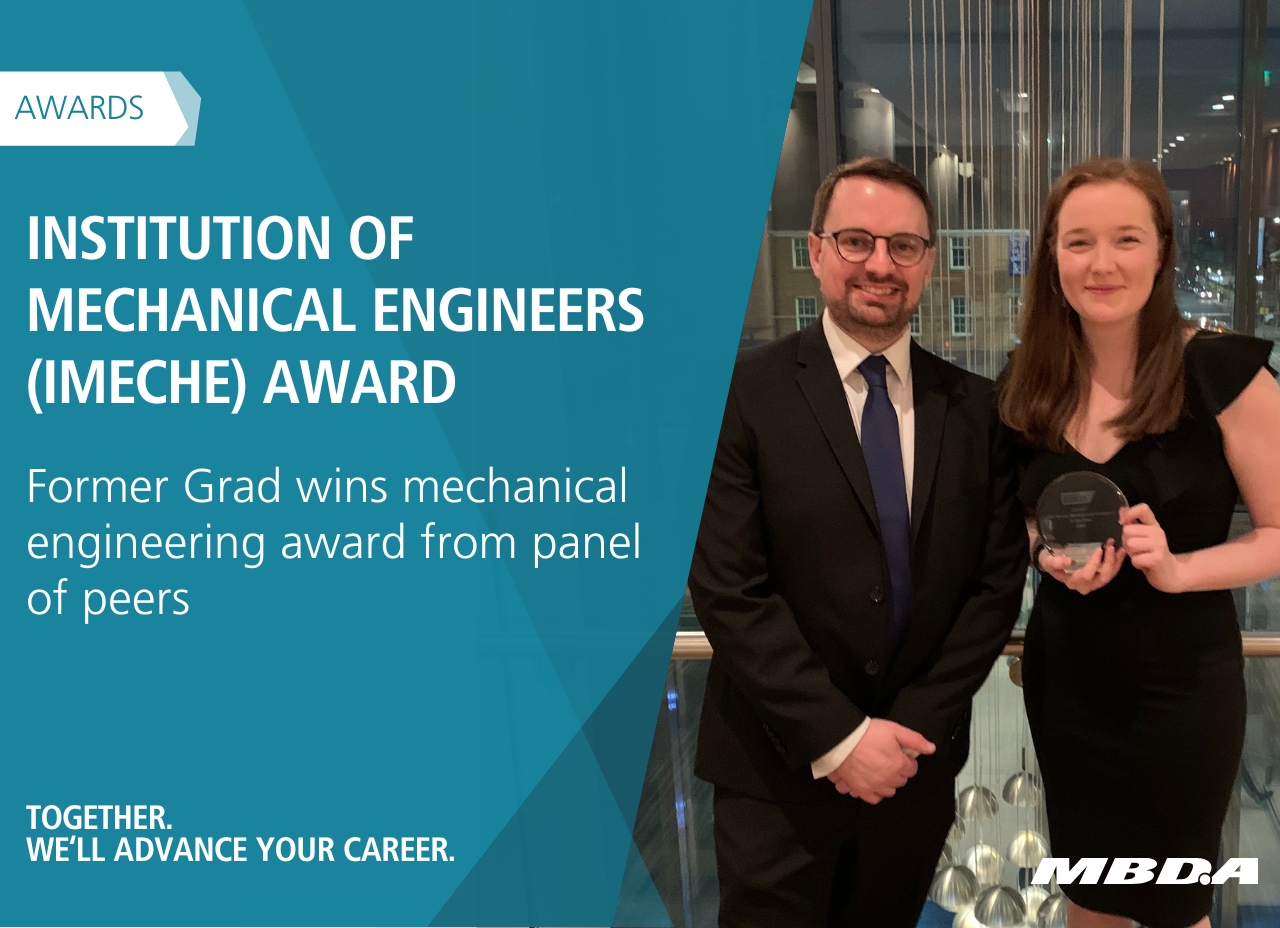 Monday 12 June 2023
We are pleased to celebrate one of our manufacturing engineers has won an Institution of Mechanical Engineers (IMechE) award for their contribution as an engineer, a leader, and through their involvement in their community, and setting a good example of what an engineer should be.
Katie Irwin, who works at our Bolton site and recently promoted to Principal Manufacturing Engineer, has been awarded the IMechE's North Western Young Member Panel's 'Andrew Medd Award', which recognises a young mechanical engineer from the region each year.
Reacting to her win, Katie said, "I was really surprised when I saw I was in the final two and genuinely didn't expect to win the award, but I was really proud to have been named the winner. I really enjoy working in manufacturing and being a mechanical engineer so it means a lot to be recognised for my work".
However, Katie was quick to thank those who helped her secure the award, adding,"I have to thank both Jeff and Garry for nominating me and supporting me, as well as the team I work with. I definitely wouldn't have been able to achieve this without them. They have really helped to shape me as a manufacturing engineer."
Katie joined MBDA as a graduate in 2018 after completing a Masters in Mechanical Engineering at university, and joined her current team in her final year. IMechE is the Institution of Mechanical Engineers, and the North Western Young Member Panel is a diverse team of students and postgraduates who are passionate about providing training, learning experiences and personal development to like-minded young engineers in the region.
The judges were able to see from Katie's nomination evidence of the work and effort Katie has put into developing her career as an engineer, not just by excelling in her 'day-to-day' role, but also through her extracurricular activities. For example, supporting STEM events in local schools, working with MBDA's annual intake of new graduates and apprentices, and continuous improvement activities for the company. All of which, and more, showed Katie as a good example of an engineer working towards the IMechE vision of 'improving the world through engineering', developing professional engineers and inspiring the next generation.
Looking to the future of her career, Katie is working towards becoming a Chartered Engineer with the iMechE, adding,"This award has increased my desire to achieve this and boost my confidence in my progress towards it."
Through her outreach work with schools, Katie continues to encourage others who have an interest in science, technology and maths to follow her into a career in engineering, stating, "The job is so varied and you can take it in any direction you want, it's a really rewarding career path".
Our graduate programmes are a great opportunity for you to discover a career in national security. You'll be supported to challenge yourself, to ask questions and to build a valuable network. We'll also provide you with everything you need to reach your potential, including career advice, bespoke training and even the chance to earn professional qualifications. You can register your interest HERE and we'll let you know when our 2024 programme opens for applications.