Story
MBDA Achieves Gold again from Defence Employer Recognition Scheme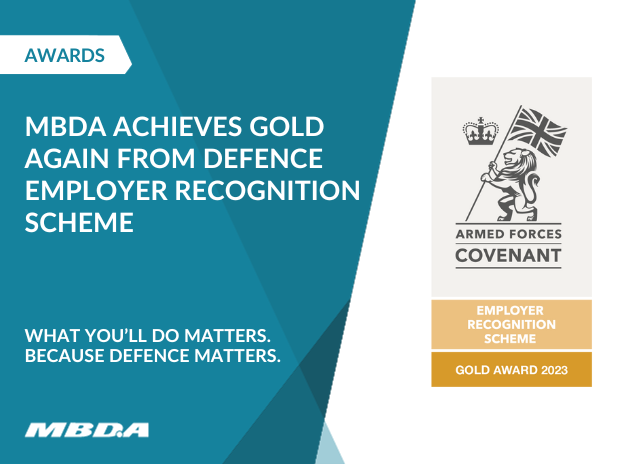 Thursday 2 November 2023
We are proud to announce that our exceptional support to the armed forces community at MBDA UK has been recognised with a renewed Gold award from the Defence Employer Recognition Scheme (ERS).
The Defence Employer Recognition Scheme (ERS) acknowledges employers who have provided exceptional support to the armed forces community and defence by going above and beyond their Armed Forces Covenant pledges. Through a 3 tier approach of bronze, silver and gold awards, the scheme recognises the different levels of commitment provided by employers. The gold award was originally awarded to MBDA in 2018 with a requirement for this to be revalidated every 5 years.
Chris Allam, Managing Director of MBDA UK, said:
"The revalidation of our Gold status by the Employer Recognition Scheme is a great endorsement of the way MBDA behaves as part of the defence family and how we appreciate the contributions made by the breadth of the armed forces community. I am very proud of the esteem to which our business is held and would like to thank all those who helped us to obtain this formal recognition by the Employer Recognition Scheme for a further five years."
Steve McKenna who coordinated the case for revalidation said:
"It is wonderful news to report that following our revalidation case submission our gold status has been successfully revalidated for a further 5 years. This confirms MBDA continues to be an exemplar as an employer and demonstrates that MBDA recognises the value that serving personnel, both regular and reservists, veterans and military families contribute to our business and our country. The work of our Armed Forces Community, our excellent HR policies, veteran recruitment initiatives and our whole forces friendly approach have all contributed to this gold revalidation. A huge thank you, well done and congratulations to all involved."
Ex-Military Careers at MBDA
MBDA is committed as an employer to providing opportunities and a smooth transition for ex-forces personnel into our civilian workforce. Whether you choose to apply directly to one of our open opportunities, or join via our Ex-Forces Community, our recruiters will make sure to support you through your recruitment journey with any specific needs, questions or concerns.
Once in the business, the dedicated support continues for those who want it, including an active employee network made up of ex-forces colleagues. Click the link below to find out more about life at MBDA as an ex-military employee, inlcuding links to suitable vacancies and to our ex-forces community.