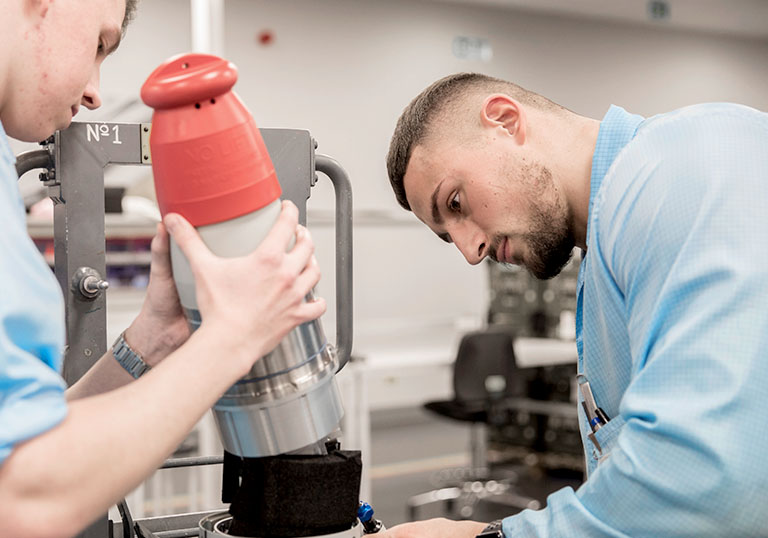 Operations
We're delivering a safer tomorrow.
Operations Overview
Operations designs, manufactures and procures the RF, electronic and mechanical components that provide the state of the art, high quality and cost-effective solutions to our programmes. Consistently delivering on our promise to produce quality products that precisely meet the needs of each and every customer, their expertise is without comparison.
Working with purpose and knowing that every advancement provides smarter and more effective equipment for our armed forces, our Operations team play an integral part in MBDA being the trusted supplier of missile and missile systems to the defence sector.
Our Disciplines
Electronic Engineering
The Electronic Engineering function manages the design and delivery of high technology electronic products for our projects. Their expertise includes:
On board missile equipment such a weapon controllers, fin actuators, safety systems and data links
Firing control units for land, naval and airborne platforms
Automatic test equipment
Electrical equipment
Training simulators
Countermeasures equipment
Show Jobs
Manufacturing
The principal mission of Manufacturing UK is to ensure that MBDA deliverable commitments are met in terms of time, cost and quality. The aims are:
To ensure that all submitted bids are achievable from a manufacturing viewpoint i.e. proposed manufacturing architectures (incl. supply chain), processes & capabilities, delivery schedules, resource allocation and costs
To make sure designs are feasible and to develop appropriate manufacturing architectures and processes in order to meet development and production programme requirements
To develop manufacturing methods and architectures compatible with emerging product and process technologies and concepts e.g. increased sub-system modularity and re-use and evolution through technology insertion within and across product families
To maintain responsiveness to changing customer demands throughout the product life-cycle through the deployment of flexible and agile manufacturing resources, facilities and architectures with particular emphasis on in-service support to all UK HMG Services (e.g. UORs and/or surge demand)
Manufacturing Page
Mechanical Engineering
The Mechanical Engineering Team develop, design and support mechanical aspects of our products throughout their life-cycle in order to meet the required timescales and cost, while maintaining optimised performance for all current and future MBDA projects. These aspects include:
Physical missile & systems product design
Missile mechanical airframes
Mechanical, electromechanical, and (small) pyrotechnic sub-systems
The management of in-house associated engineering centres of excellence
Future preparation through implementing a strategic approach to innovation, technology, modularity, skills and investment across MBDA customer.
Show Jobs
MBDA People
Gain an insight into how we work and who you could be working alongside.
Discipline

Electronic Engineering | Engineering and Design
Location

Stevenage | Bristol | Bolton
Discipline

Manufacturing and Production
Discipline

Engineering and Design | Mechanical Engineering
Search jobs