Our People
Shakunt
Graduate Mechanical Engineer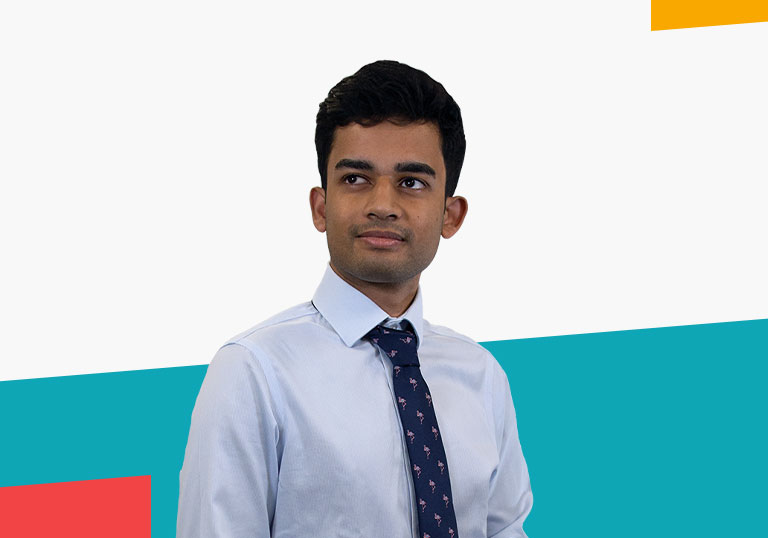 MBDA is a place where the correct role will see your skills being valued to the highest level.
MBDA is one of the few companies that really allows me, as a graduate, to be fully involved with the in-depth technical aspects of engineering. I know a lot of people who would run away from technical roles however, I really enjoy solving these complex technical problems and as an MBDA graduate I am given the opportunity to do this on a daily basis and be recognised for it. I really valued this within the engineering industry, and this was the main reason for joining the company.
I am currently halfway through the two-year graduate scheme, on my 3rd rotation out of 4. I have previously had placements within Mechanical Analysis and Actuation Systems teams. My current placement is an external one within the Missile Architecture team, so it is a chance to explore something slightly different to my home department.
I think it is a general trend for graduates to develop in different ways over the two-year scheme. Graduates start to gain new connections, develop technical skills and therefore start to take on more responsibility in their placements. The more I have begun to understand what we do as a business and understand how best to do it, the easier I have found to progress and develop my skillset. Each of the graduate scheme placement rotations are almost like a 6-month test drive of different teams so it has allowed me the chance to see if that is something I enjoy or not and therefore if I would like to consider it for my future career.
For me, a good day at work is not just one where I have completed as many of these tasks as possible. Instead, a good day is one where I've met or been introduced to someone new, learnt about a new aspect of the company or project that I didn't know before and still completed some of the tasks I have been set. I think it is vital for anyone in their early career to focus on trying to learn something new about the company every day because ultimately this is what fuels future career development.
MBDA is a place where the correct role will see your skills being valued to the highest level. There are very few companies that actually care about an individual's abilities and skillset rather than just generalising the workforce into being a set of people to complete a bunch of tasks. MBDA really allows you as an individual to develop your niche and make the most of your abilities.

Discipline

Customer Support and Services | Engineering and Design | Systems Engineering
Discipline

Customer Support and Services | Engineering and Design | Systems Engineering
Location

Stevenage | Bristol | Bolton
Discipline

Quality and Assurance
Location

Stevenage | Bristol | Bolton
Search jobs