Story
MBDA a finalist in 3 categories at the In House Recruitment Awards 2023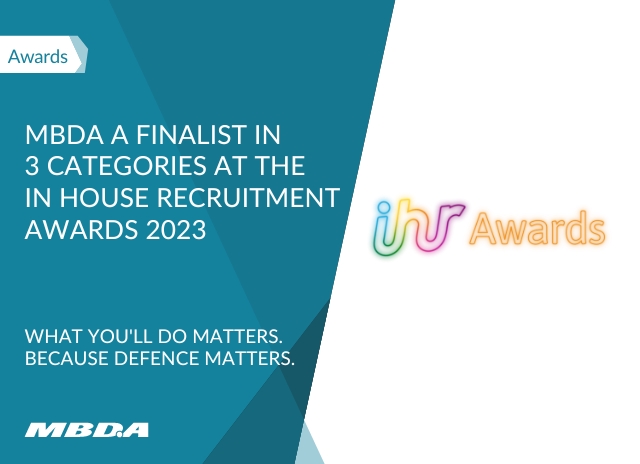 Monday 4 September 2023
We are pleased to announce that MBDA has been shortlisted for 3 categories in the upcoming In House Recruitment Awards 2023.
At MBDA, we take pride in offering excellent experiences for our people, whether they be current employees, or candidates applying for job vacancies with us.
Our Resourcing team work hard to deliver an exceptional candidate experiences for anyone looking to join us, as we guide them through our application, security vetting and employee on-boarding processes.
The In House Recruitment Awards take place in November and they were introduced to "recognise the increasing achievements of UK In-house Recruitment Teams and the individuals that form them".
MBDA is very proud to have been shortlisted for three awards this year. These categories include:
· Candidate Experience
· Tech Hiring
· Video Campaign
Our Candidate Experience nomination refers specifically to our partnership with Meet & Engage, our on-boarding platform for candidates waiting to start their employment journey with us. Combined with personal contact and support from our Recruitment team, our on-boarding platform provides interesting and helpful pre-employment insights to candidates, to make sure they feel prepared and excited to join us when that day arrives.
As a Defence business, our workforce consists of thousands of Engineers and technical specialists across a range of disciplines. Our Tech Hiring nomination relates to the hiring process around some of these roles, including a range of partnerships to help improve our candidate and employee diversity in job markets where diversity is limited. Find out more about some of our commitments on our Inclusion & Belonging page.
Our Video Campaign nomination relates to our Engineering recruitment video, featuring members from our Electronic Engineering teams, which can be viewed here. This video has received thousands of views across our social platforms and careers site, and has helped us attract and convert record applicants to our Engineering opportunities across Stevenage, Bristol and Bolton.
The IHR Awards night will be taking place on 29th November 2023, when the winner of each category will be announced.
Want to join an employer that is continually recognised for its commitments to its candidate and employee experience?