Story

Armed Forces Day 2021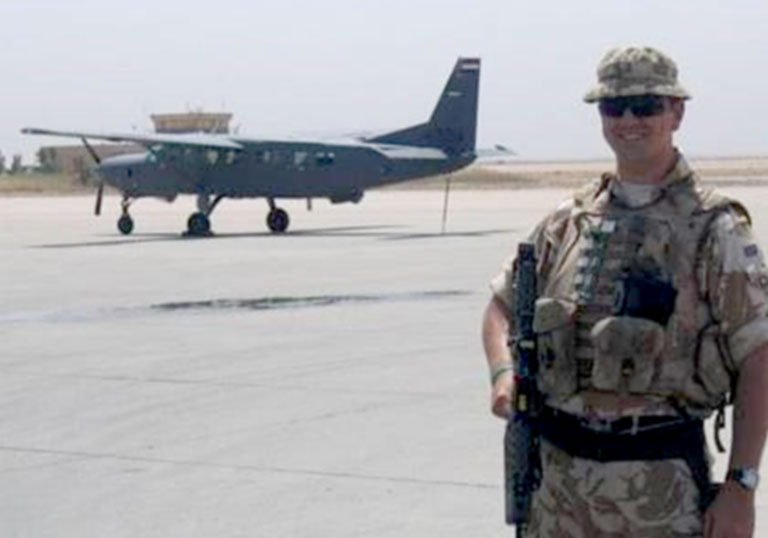 Saturday 26 June 2021
At MBDA, we are proud to work with our Armed Forces. We're just as proud when they choose to come and work with us when they decide to end their service. Russell, who works in Digital Communications, was formerly a Royal Air Force Policeman. For Armed Forces Day 2021 Russell has written about his journey from life on Operations to helping deliver decisive military capability.
Some people leave school with a clear plan, milestones set and an idea of where they want to end up in life. I was not one of those people - other than my desire to serve in the Royal Air Force.
I joined because I'd grown up hearing stories from my Grandfather about life in the RAF – it seemed a natural progression to turn a hobby into a career. Life in the forces gave me a purpose and an opportunity to do things not many others experience. Tours of the Falkland Islands, Afghanistan, Iraq and Kenya were particular highlights, but the thing I enjoyed most about the RAF was the camaraderie with the people. Whether the experiences were good or bad, you were in it together and they had your back as you had theirs.
After serving in for six years, I left in order to establish myself a life more at home.
After a year of trying a couple of different roles, I found my way to MBDA. It didn't take me long to realise that this is where I wanted to be. A good fit for my lifestyle and a place where if you applied yourself, you could make a real impact. Since joining in 2010, I have performed a variety of roles including Security, Business Support and now Digital Communications. For me, MBDA is the closest I have come to finding that same camaraderie in civvy street – with an abundance of veterans, serving reservists and employees keen on understanding service life to better perform their roles.
After 11 years at MBDA I still remember the sacrifices made by our people who serve and the challenges they face daily in our name. Happy Armed Forces Day!