Story

Armistices Day and Remembrance Sunday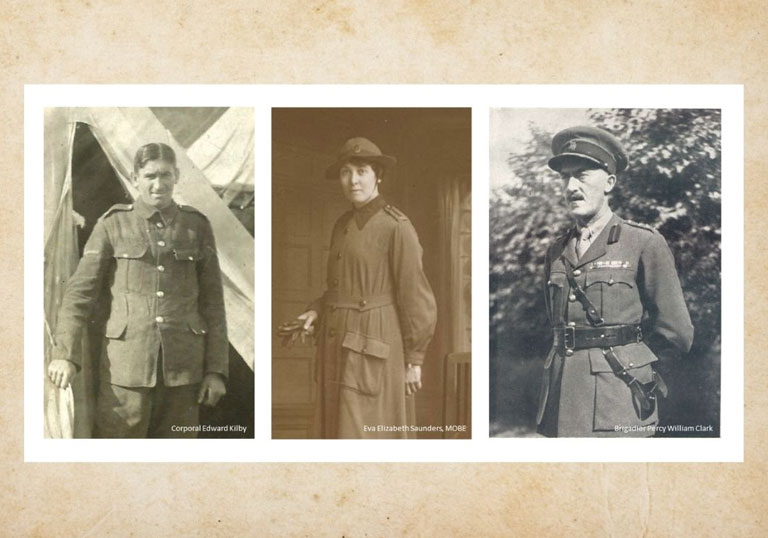 Thursday 11 November 2021
As a Defence Company, many of our people are ex-military, or have connection – often through friends and family – with the armed forces. So remembering and honouring those who serve, and have served, at this time of year is important.
In the run up to Armistices Day and Remembrance Sunday members of our Armed Forces Community, our staff network that brings to life MBDA's connection with the Armed Forces, have helped dress our sites in Bolton, Bristol and Stevenage with large remembrance poppies. Each displaying the information of a local person who paid the ultimate sacrifice in service of our country.
Here, some of that community have shared their very personal stories of those loved ones.
CJ, who works in our Information Management department, said: "My great-grandmother served in WW1 and was awarded the Medal of the Order of the British Empire for valuable services rendered in France and Flanders. We do not know the details of why she was awarded it (I would love to know) but she was my inspiration for my service."
Stew, who works in Sales and Business Development, said: "My great-grandfather Edward, or Ted, Kilby was a rugby-playing coal miner who came from the Forest of Dean, and was killed in May 1917 during the advances towards the Hindenburg Line. He is buried in a beautiful Commonwealth War Graves Cemetery on the banks of the Somme which I visited a few years ago. His brother was killed on day two of the Battle of the Somme, and a third brother survived having been involved in the desperate rear-guard actions of March 1918."
Tom, one of our Principle Engineers, shared details of his grandfather - Brigadier Percy William Clark - who served in WW1 and sadly died during WW2 while serving with the British Army. Brigadier Clark didn't just provide Tom with a military link, but an engineering one too, as a Chief Engineer. At first for the British Troops in Northern Ireland and later for the Southern Command. In 1940 he was awarded a CBE for his services in France. Zander, who works in our Cyber & Information Security Dept., shared that his great-great uncle - Private John Wardlaw of the Royal Scots Regiment – had died in November 1915 and is laid to rest in Belgium.
Nathan, one of our Electrical Engineers, said: "My grandfather (able seaman Reginald Allbury) participated in the Russian Artic convoys during WW2 and I've created a pack of photos of the ship's crew and his immediate crew members, framed medals, and more over the years. The order of the blue nose was issued to sailors who spent an amount of time in the Arctic Circle, I've framed my grandfather's to preserve it for my future family and for others to see and appreciate."
Michael, who also works in Sales and Business Development, shared the story of Ernest Brooke. He said: "Ernie was a Grenadier Guard during World War 2 and saw action in Northern Africa and Italy. He was injured in 1944 during the Battle of Monte Cassino. He survived but some of the shrapnel could not be removed from his body and this affected him for the remainder of his life. Ernie, like his father before him, served this country with distinction and bravery. I am extremely proud of him, this man known to me simply as Grandad."
At MBDA our Armed Forces Community enhances and celebrates the relationship our company has with the Armed Forces. That is why Armistices Day and Remembrance Sunday will always be special, honouring the service and sacrifice of our Armed Forces, veterans, and their families.
They will never be forgotten.
MBDA is an award winning company; committed to providing an inclusive working environment where our employees can be themselves and everyone has equal opportunity to reach their full potential. We value difference and know that a diverse community makes for greater innovation and brings a breadth of skills, experience and perspectives.
Check out our live roles now!