Story
Bolton Careers Open Day - 23rd March 2023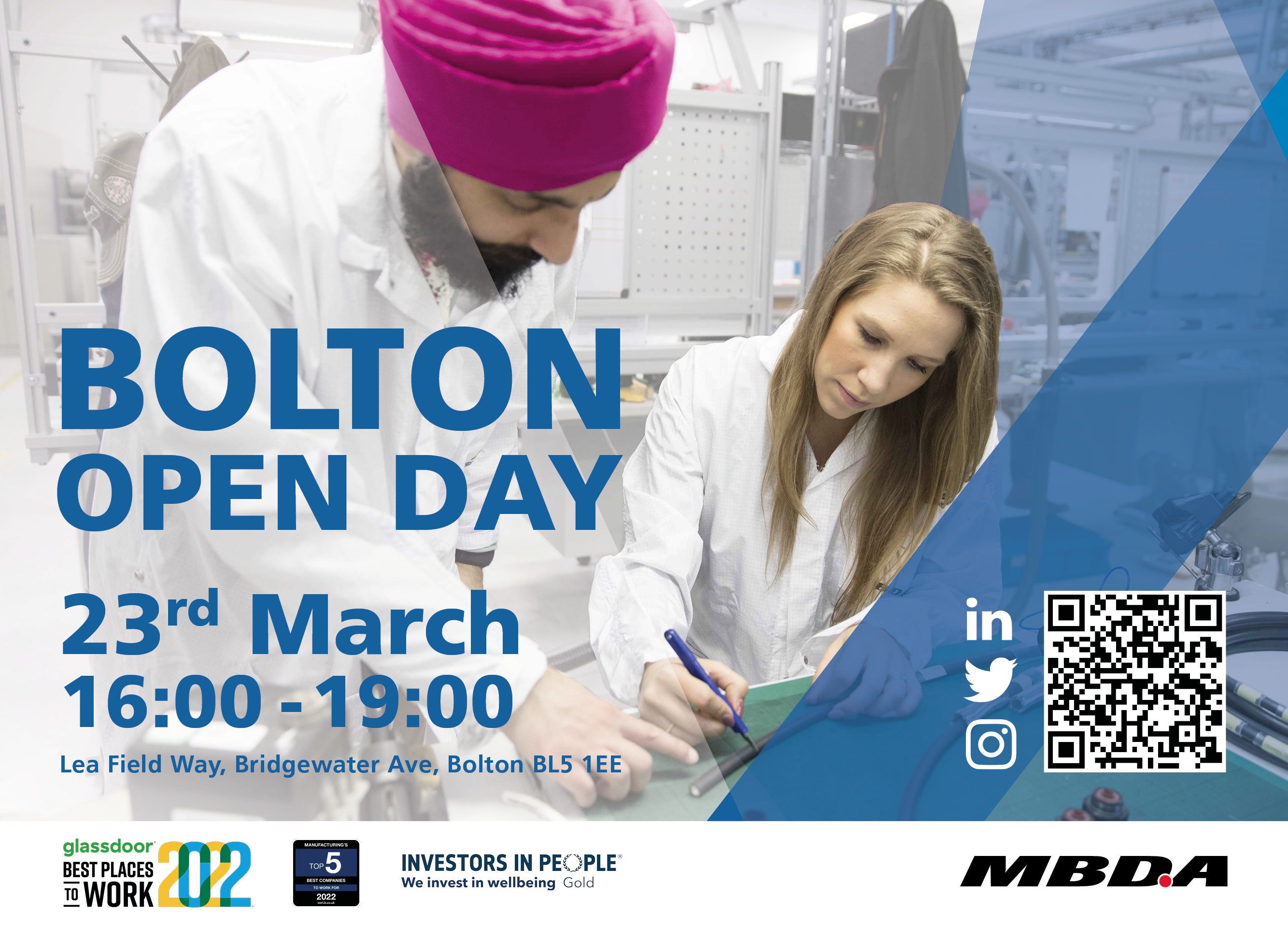 Monday 27 February 2023
Key Information:
Date: Thursday 23rd March 2023
Time: 16:00 – 19:00 (last entry 18:45) [add to calendar]
Location: MBDA, Lea Field Way, Bolton, BL5 1ED
Registration: Please use the link below to register ahead of the event on our Workday portal. If you have previously applied for a role with us, you should be able to login to your Workday account.
Creating an account allows us to process your job applications much faster following the event and, in some cases, to speak to you before the event about what opportunities may or may not be suitable for you.
Registered attendees will be sent an email reminder a few days before the event date.
Pre-event queries: Please contact us if you have any questions about the event, or join one of our recruiters for a 1:1 chat online on Tuesday 21st March, 4-5PM. Register here.
Security: Photo ID is essential on the day in order to access our site. Please also review our Security & Vetting page before attending.
Event overview
On Thursday 23rd March we invite you to come talk to us about current opportunities and future career prospects at MBDA Bolton.
The Careers Open Day is your chance to learn more about our company, our culture, and the exciting opportunities we have to offer. You'll meet with our team of experts, learn about our current projects, and discover the wide range of roles we have available.
On the day of the event, our recruitment team will help direct you to the correct teams on the day, based on your skills and needs.
Come find out from our employees why we think MBDA is a great place to work; and why we're a Top 10 Best Manufacturing Company to Work For (Best Companies), and a Best Place to Work in 2022 (Glassdoor).
About MBDA Bolton
As a leading defence company in Europe, we are proud to design and manufacture missiles and missile systems used to protect the UK and its allies. We provide products and services to each branch of the armed forces, working in partnership with the MOD, our European MBDA companies, and other defence manufacturers towards common goals.
In the UK we have three primary locations. MBDA Bolton is our hub in the North, and home to our state-of-the-art manufacturing facilities, filled with skilled employees working to develop and deliver our products in time and to the highest standards.
Located just south of Bolton, the site is an easy commute from numerous towns and cities in the North West, such as Manchester, Preston, and the Greater Liverpool area.
We have plenty of parking on site and a subsidised restaurant for employees, using fresh, seasonal ingredients to produce nutritional and delicious dishes.
We are always looking to expand and diversify our talent pool, as we know that a diverse workplace breeds collaboration and innovation. We are proud to be an inclusive employer and we welcome and encourage applicants from all backgrounds. MBDA representatives from some of our inclusivity employee networks will be in attendance on the day of the event, should you wish to discuss anything with them.
Opportunities for Experienced Professionals
In order to maintain our high standards and industry reputation, we are always on the lookout for experienced professionals to join us and help us grow.
We have high expectations of our employees, which is why we are committed to providing excellent training and progression opportunities for all, as well as some incredible rewards and benefits.
Specific opportunities at MBDA Bolton are available in Manufacturing and Production, Engineering and Design, Project Management, Procurement, and much more. Please visit the job search page to see what vacancies are live right now. Even if you plan to attend the event, we recommend starting an application now so you are registered on our candidate job portal.
Below are some areas / role types we typically hire for in Bolton.
Manufacturing:
· Electrical Fitters, Inspectors, Electrical Test and Calibration and Maintenance Engineers
· Manufacturing Engineers
· Manufacturing Ops Team Leaders and Managers
Engineering:
· Electronic Engineers
· Systems Engineers
· Missile / Weapons Architects
· Project Management and Project Control
Support & Corporate Functions:
· IT
· Finance
· Procurement and supply chain
· Product Assurance
· HR
Early Career Programmes
As an employer committed to job training opportunities, we also offer a wide variety of Early Careers entry routes, including graduate schemes, apprenticeships and more. Members of our Early Careers Recruitment team, as well as current scheme members will be on hand to discuss our range of programmes.
September is one of our busiest months for applications, so make sure to get your own application in soon! Make sure to use the Early Career filters on our job search page to find out more.
FAQs
Parking - visitor parking will be available on the day.
Accessibility – Please contact us if you have any specific accessibility requirements (see below).
Queries - for any questions ahead of the event, please refer to our contact us page.