Story

Bristol Open Day - Wednesday 22nd June 2022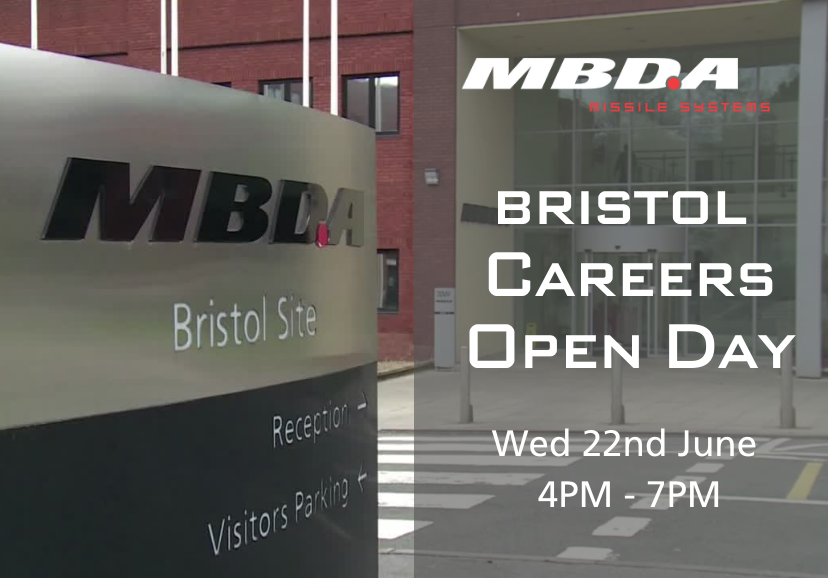 Tuesday 10 May 2022
Key Information:
Date: Wednesday 22nd June 2022 (click here to add to calendar)
Time: 16:00 – 19:00 (last entry 18:45)
Location: MBDA, Golf Course Lane, Bristol, BS34 7QS
Security: Please bring photo ID on the day and review our Security & Vetting page before attending.
Notes: To help protect our staff and attendees please do not attend the event if you are experiencing any symptoms of COVID.
CVs / Pre-registration (optional): All attendees will be required to either complete a registration form on arrival, or to save time on the day you can register your details and upload your CV before the event here.
Please feel free to bring copies of your CV to the event, but please note any attendees will still need to complete an online application to be considered for any job vacancies.
About the event
On Wednesday 22nd June, MBDA Missile Systems are welcoming job seekers on to our Bristol site to explore and discuss current and future career opportunities with us.
MBDA is one of the biggest employers in the Bristol area, with around 1,000 employees working together on unique and exciting technologies and projects. We are looking for motivated, skilled professionals to help us grow and innovate further.
In 2022, we have already been named a Best Place to Work on Glassdoor, and are ranked #1 on the Best Big Companies to Work For UK league table.
After you arrive, our event assistants will help guide you to the correct teams on the day, based on your skills and needs. We welcome and encourage applicants from all industry backgrounds.
We recognise that everyone is unique and we encourage you to speak to us should you require any advice, support or adjustments.
Opportunities for experienced professionals
We are growing many of our other teams in Bristol at present. We recommend checking our latest vacancies before attending, here.
Our open days are great opportunities for you to meet real employees and hiring managers from our MBDA Bristol teams, so you can gain real insight in to life at MBDA and to help you decide if working with us is right for you.
Just some of the hiring managers and employees in attendance for you to speak to include: Systems Engineers, Software Engineers, Project Controllers/Planners, Project Managers, Commercial teams, Agile practitioners, and more!
Early Career Programmes
As an employer committed to job training opportunities, we also offer a wide variety of Early Careers entry routes, including graduate schemes, apprenticeships and more.
Please note applications for most of our 2022 early career programmes are now closed, but we are happy to speak to anyone interested in finding out more about future programme availability and suitability.
What to do if you wish to attend
Doors are open 16:00-19:00 on the day. Please aim to arrive before 18:45.
No pre-registration is required but you will need to bring photo ID to attend the event.
We recommend bringing copies of your CV with you to share with hiring managers. However, please note that any attendees will still need to complete an online application following the event to be considered for any of our vacancies.
As a defence company, we have strict regulations around security and vetting new personnel. Please review our Security and Vetting page before attending.
FAQs
Parking - visitor parking will be available on the day.
Accessibility – Please contact us if you have any specific accessibility requirements.
Queries - for any questions ahead of the event, please refer to our contact us page.