Story

MBDA achieves a treble of gold awards for investing in its people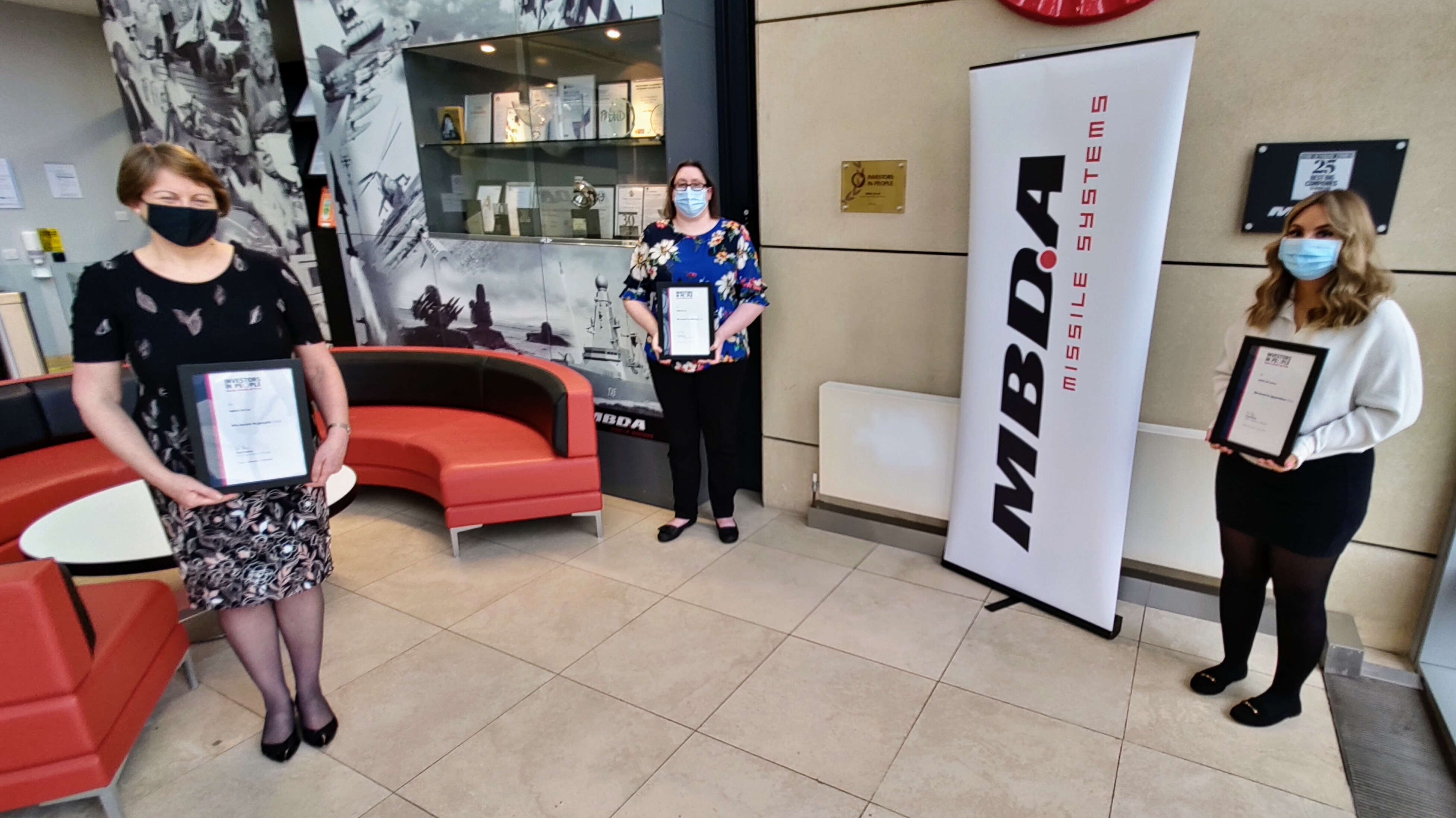 Monday 20 December 2021
At MBDA, our people are critical to our ability to consistently achieve our ambitions. It's each of their unique skills and experience that helps us to push our boundaries. That is why we are proud to have been awarded Gold on all three accreditation standards from leading organisation, Investors in People.
This December, Investors in People awarded us a third Gold for their 'We invest in apprentices' accreditation. This followed our two earlier Gold awards back in September for 'We invest in wellbeing' and 'We invest in people'.
The Gold awards for apprentices and wellbeing were firsts for us as a company. For apprentices, the award noted that the company has 'a comprehensive recruitment programme targeting a broad and diverse range of potential early careers apprentices, built on strong relationships with community partners as part of outreach activity'. The Wellbeing award noted 'there is a very supportive culture across MBDA'.
We also retained our Gold award for 'We invest in people', and were congratulated on a wide range of improvements, even though workplace practices changed rapidly because of the global pandemic.
Our gold awards this year also didn't end with Investors in People. We have also received the 5% Club's Gold award for our commitment to 'earning and learning'. The 5% Club is an employer-led charity organisation dedicated to encouraging organisations to have at least 5% of their employees in earning and learning schemes, and we are a patron and founding member. This year was the first time the 5% Club have conducted an audit of their members. Just over 10% of our workforce are in an apprenticeship or on a graduate scheme or are undertaking a qualification supported by us.
Cathy Strachan MBE, our HR Manager for Learning and Development, reflected on this recent award success, saying,
"These awards are very positive and a testament to the work put in to make sure all our people feel valued. Apprenticeships are part of MBDA's DNA, so we are proud of our newest accreditation. It has also been great to get such positive feedback on the wellbeing work we do to ensure we provide a healthy and supportive workplace. However, we won't be resting on these latest awards, and we are already working to continuously improve and ensure MBDA is a place people continue to want to work."
As an award winning company, we're committed to providing an inclusive working environment where our employees can be themselves and everyone has equal opportunity to reach their full potential. We value difference and know that a diverse workforce makes for greater innovation and brings a breadth of skills, experience and perspectives.
If you want a job at a company that invests in its people, find your opportunity here!