Story

Spotlight on the UK Support Function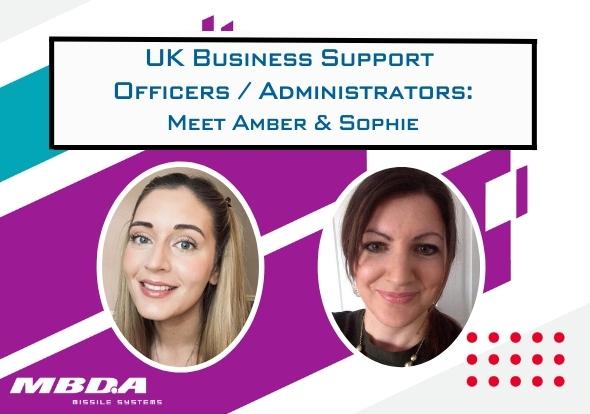 Thursday 21 April 2022
We are currently seeking professional administrators within our UK Support Function across our main sites in Stevenage, Bristol and Bolton. View all vacancies here. ​​​​​​
About our UK Support Function
The UK Support Function strive to provide professional, flexible and proactive support across MBDA UK, ensuring managers and their teams can run their departments effectively and efficiently.
UKSF consists of almost 100 professional support staff consisting of Business Support Administrators (BSAs), Business Support Officers (BSOs), UKSF Coordinators, a Team Leader, Function Head and Travel Team, based across all UK sites.

The BSO/BSA role is to provide managers and their teams with the support and assistance required to help run their departments effectively and efficiently. At MBDA, we work dynamically meaning our people work flexibly between the office and from home.


Meet Sophie, Business Support Officer

"The role variety makes it an enjoyable area to work in. The pandemic has been challenging and the team has had to adapt and adjust to a new way of working over night without the delivery being compromised."
Sophie has been a BSO for just over seven years within the Future Systems department.

"Myself and the other BSO's in Future Systems ensure that we are the key point of contact for any support and queries the team may have, which enables them to deliver the departments' end goal of developing future solutions that will meet the future customer needs and deliver competitive advantage to MBDA.
"Future Systems is a busy department and no day is ever the same.
Alongside the many core tasks, I help the team with office moves and dynamic working; spend reports; and finding solutions and workarounds to any problems the team may have. Many of the challenges we face are overcome by us all working together, both within Future Systems and the wider UK community to share knowledge and best practice."
Meet Amber, Business Support Administrator
"My experience has really helped me to build my confidence and further my career. Members of the Support Function are so helpful and supportive; I really feel you can ask them anything!"
Amber is a Business Support Administrator who joined MBDA in January 2022. Amber gave us an insight into her day-to-day activities:
"The main duties of a BSA are similar to a BSO but with more emphasis on training and development, which is taken very seriously at MBDA, so I feel supported to achieve my best.
"As a BSA my day consists of managing diaries, booking travel, raising purchase orders, adding people on the NTK (Need to Know) list for the project, booking meetings and supporting the wider team.
"I love the project I'm currently working on; it's fast paced and always keeps me on my toes as no two days are the same. I have had many opportunities within this project so far; from being involved in kick off events, to presenting to 145 Engineers and Business Managers."
If you are looking for a support opportunity as a business support administrator or business support officer within a dynamic and interesting work environment, then check our latest vacancies and apply today.