Story
Two apprenticeship awards for colleagues in the Make UK regional Manufacturing Awards 2022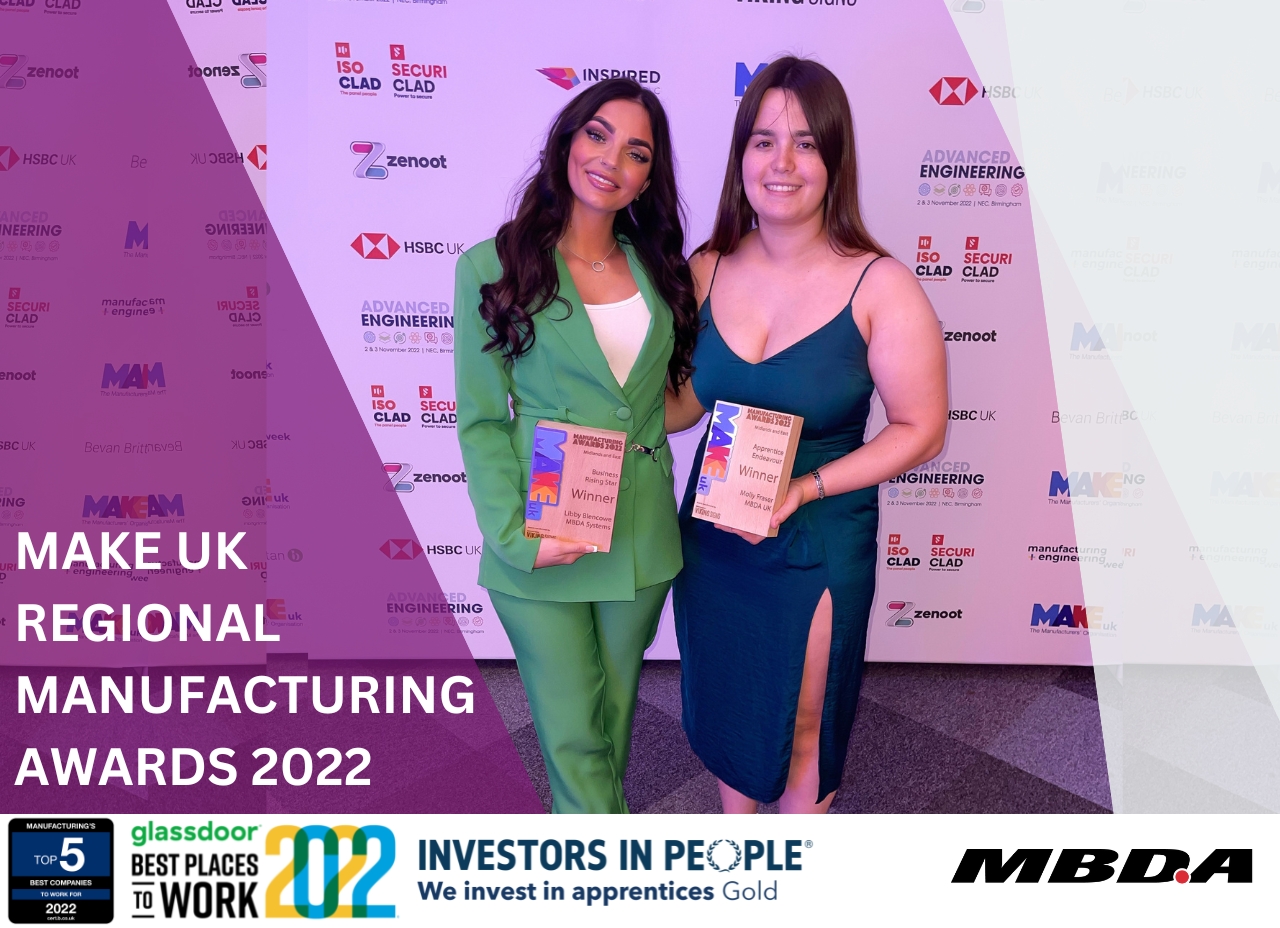 Monday 23 January 2023
We are pleased to be celebrating more awards for two more of our apprentices who were announced as regional winners for the Midlands and East in the Make UK Manufacturing Awards 2022.
Libby Blencowe won 'Business Apprentice of the Year: Rising Star' and Molly Fraser 'Apprentice Endeavour Award' and the pair will now be heading to the National finals later in January 2023.
Reacting to their wins, Molly said, "Since starting MBDA in 2020, I've had not the easiest of journeys due to many health related obstacles. To be recognised on a regional level for my determination to succeed, as well as my perseverance means so much. I also hope that by winning this award, I may encourage others to put themselves out there to also be recognised for their achievements".
Libby added, "I have had a fantastic three year journey at MBDA so far. I am so grateful for all of the opportunities I have been able to seize during this time. I've learnt so much more than I ever imagined I would when I started back in 2019. Winning this award is a fantastic way to celebrate these achievements and I am so proud to be competing nationally and representing MBDA."
The 'Business Apprentice of the Year: Rising Star' recognises those who have done the most to seize the training and development opportunities presented to them so far. Libby, who is in the final year of her Business Degree Apprenticeship, had to show her significant contribution to supporting the business activities of MBDA, and show her great potential for the remainder of her early careers programme.
Molly's 'Apprentice Endeavour Award' recognised her a hard work and dedication in engaging with her apprenticeship despite adverse circumstances. It acknowledged her determination to participate in the programme to their highest ability and showing great progress on her individual journey. Molly is in her third year of her Software Engineering Degree Apprenticeship.
The pair will now attend Make UK's National Gala Dinner taking place on 26th January at East Winter Gardens Canary Wharf, where the National Winners for the manufacturing awards will be announced.
MBDA has around 200-300 apprentices and graduates start their careers across their UK sites. If you are student looking for an apprenticeship or graduate scheme with an award winning employer that provides an environment for you to win your own awards, why not check out our early careers programme opportunities here: https://www.mbdacareers.co.uk/early-careers/