Story

MBDA a Best Place to Work in 2022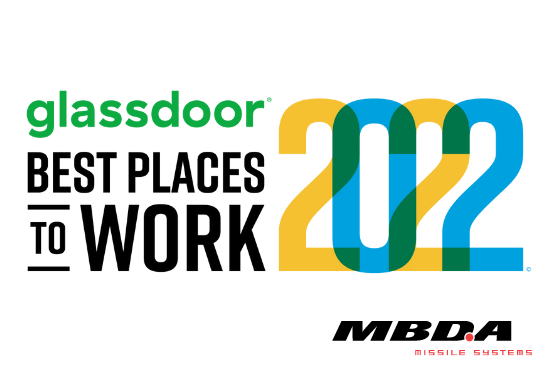 Wednesday 12 January 2022
We are pleased to announce we are among the winners of the annual Glassdoor Employees' Choice Awards, a list of the Best Places to Work in 2022.
Unlike other awards, there is no self-nomination or application process, instead it's entirely based on the feedback our employees have voluntarily and anonymously shared on Glassdoor.
To determine the winners of the awards, Glassdoor evaluates all company reviews shared by employees over the past year. This year, we are proud to be recognized as a Best Place to Work among U.K. companies with more than 1,000 employees.
Here are just some of the things our people said about working at MBDA in recent months:
"MBDA are a company that actually value their employees whilst offering the opportunity to work in a challenging and exciting environment. Excellent internal mobility, training and development opportunities offered."
"A great team with people always willing to help you with any technical challenges. The culture of sharing knowledge is great with some great design patterns for some unique software products."
"Progressive company working hard to embrace newer ways of working within the confines of the industry. Whilst this can be difficult, senior leaders are committed to creating a more dynamic and forward looking culture."
A huge thank you goes out to all our employees who took the time to share their perspective on what it's like to work here. We appreciate all the valuable feedback as it only helps us improve.
We feel there are many great reasons to join us at MBDA, which you can read more about on this site, including: our rewards and benefits, ways we ensure everyone feels they belong here, and our commitments to corporate social responsibility.
Want to hear about life at MBDA from the people that work here? Read some of our people's stories on here, or head over to our see our employee reviews on Glassdoor.