Story

MBDA ranked #1 on the UK's Best Big Companies to Work For 2022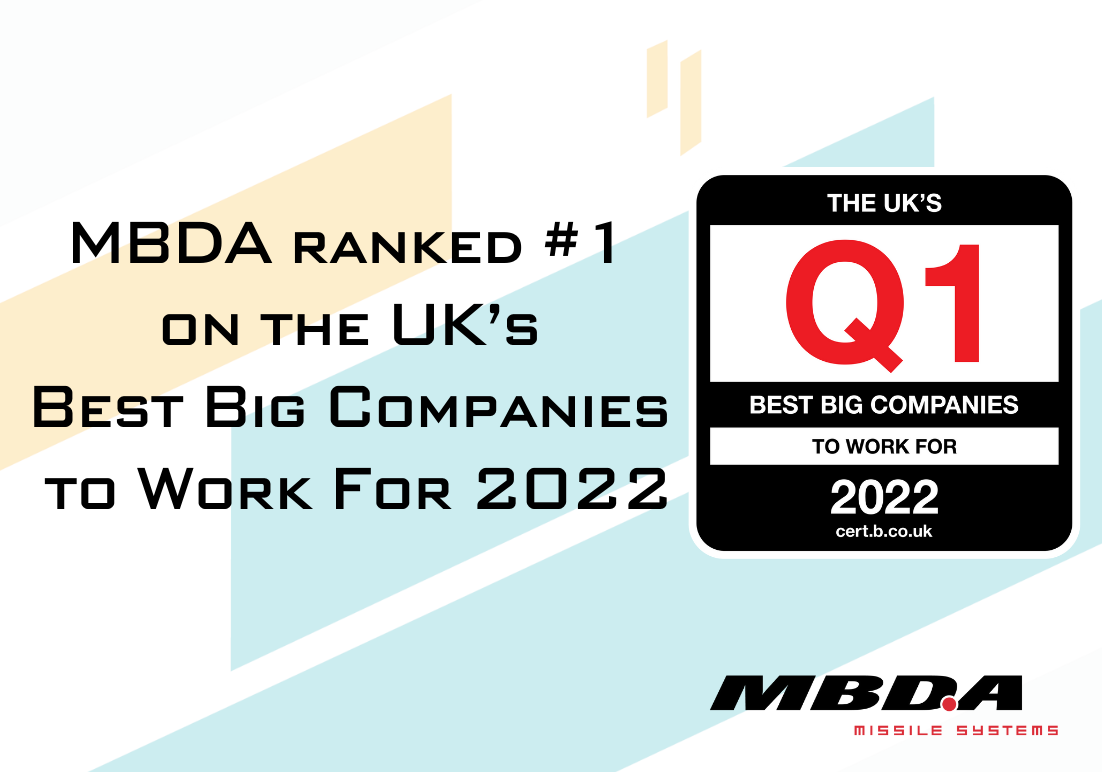 Saturday 19 February 2022
We are proud to announce that MBDA is currently #1 on the UK's Best Big Companies to Work For 2022 league table.
On Friday 18th February, the first quarter rankings for the UK's Best Big Companies to Work For 2022 league table were revealed, with MBDA taking the #1 spot. MBDA also secured the top employer position in the Manufacturing category.
These accolades add to an award-winning streak as an MBDA continues its run of employer-related accolades, most recently being the only defence company to place on Glassdoor's Top 50 Best Places to Work list in January.
The Best Companies rankings are derived from highly detailed employee surveys, covering a wide range of topics. Over 2,300 UK employees from MBDA completed the survey, roughly 55% of our UK workforce.
Two of the most outstanding areas from our survey results showed that the vast majority of MBDA employees are happy with their work and home life balance, and our people feel their health and wellbeing is well looked after here. These results are further supported by three Gold award accreditations from Investors in People, received by MBDA in 2021.
All these awards come at a great time for the company as we start one of our biggest recruitment drives in our 20-year history. We have a plethora of opportunities for people to join our teams at MBDA across all our UK sites.
"2022 is already proving to be a huge year for us at MBDA and we need people with a passion for innovation to help us achieve ambitious targets. We're growing our delivery capabilities to ensure we meet growing demand for our existing products, in addition to the new technologies that have yet to be released."
"As an inclusive employer, we strongly encourage applications from people of all backgrounds, as we believe diversity is key to developing stronger, more effective teams. We encourage people to explore our current opportunities and apply today."
Debbie Cole, Head of Resourcing UK.
Visit our jobs page to view all our latest vacancies across our sites in Stevenage, Bristol and Bolton.
To find out more about the Best Companies league tables click here.